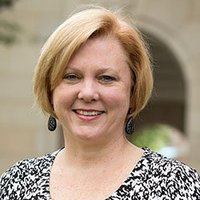 Tracy Ford Inman
Associate Director
The Center for Gifted Studies, Western Kentucky University

Bowling Green, Kentucky, United States
Website: Western Kentucky University
About
Dr. Tracy Ford Inman has devoted her career to meeting the needs of young people, especially those who are gifted and talented. She has taught on both the high school and collegiate levels as well as in summer programs for gifted and talented youth. A former finalist for Kentucky Teacher of the Year, she now serves as Associate Director of The Center for Gifted Studies at WKU in Bowling Green, KY.
She is active on the state (past-president of Kentucky Association for Gifted Education and chair of KAGE Foundation), national (current board member of both National Association for Gifted Children [parent] and Council for Exceptional Children-The Association for the Gifted G [treasurer]), and international (presenters/members of World Council for Gifted and Talented Children C and European Council for High Ability A) levels in gifted education. Tracy has provided professional learning opportunities for tens of thousands of educators as well as challenging instruction in summer programs for gifted and talented youth.
At WKU, she earned a Bachelor of Arts in English graduating summa cum laude in 1986 as both Ogden Scholar and Scholar of Potter College. Her studies continued at WKU with a certification in Secondary Education in 1988, Masters of Arts in Education in 1992, and an Endorsement in Gifted Education in 2001. She received her Ed.D. as part of WKU's inaugural class.
Tracy has co-authored and co-edited seven books, four of which having won TAGT's Legacy Book Award in parent, educator, and scholar categories:
Contributions at Talent Education 2019

A World of Products: Encouraging Excellence through Product Protocol

Paper

How can you engage students in high-level learning where they think creatively and critically? One powerful way is through intentional product development and assessment. Today's learners have a wealth of information at their fingertips; they also have incredible technological tools to package that information. Educators must ensure that students are …

More
Contributions on other events

Survival Skills for the Differentiated Classroom

Paper

Talent Education 2017

Children thrive in an appropriately differentiated learning environment; therefore, it's vital that educators learn survival skills, especially when differentiating for advanced students, so the educators thrive as well. From establishing and managing a classroom conducive to effective differentiation to instructional dimensions and learner outcomes, these survival strategies benefit …

More

The Whole Child and the Balance of Being

Paper

Talent Education 2020

A gifted child is a child first. Too much focus on the gift may lead to anxiety, alienation, underachievement, and more. So how can we provide balance? How can we address the needs of the whole child? The National Association for Gifted Children established a task force to answer those …

More